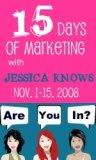 Today is Day 1 of
Jessica Knows
15 Days of Marketing. I am super excited about this as I hope to learn a lot from her. We started Day 1 with a little
homework assignment
:
"For homework, I want you to think about your favorite brands, whether it's a product, a service, a social networking tool, whatever. Then I want you to share with us in the comments what your three favorite brands are and why. Who knows? Maybe a publicist for that brand will see it and reach out."
Diet Coke (Coca-cola): Duh, look at this blog and it says it all. lol
Sony: We are BIG Sony fans in this house. We buy a lot of Sony electronics and never are disappointed.
Kraft foods: I love all their food products and their website is great for recipes.
Stay tuned as I learn a ton from
Jessica
.